Wednesday, April 30, 2008
The people at Frank Myers are a blessing from above. They worked very hard to surpass our very high expectations. They were polite and courteous. We are very happy with our vehicle. We never thought it would be possible for us to get the vehicle that we drove off with. God
Tuesday, April 29, 2008
Amazing! I can honestly say that
NO
other car salesperson from any of the the other car lots I had visited was able to help. Uncle Frank was able to help me in less than 4 hours! Because of the bad experience I had the weeks before I came here, I was a skeptic. But it was true...at Frank Myers
EVERYBODY RIDES
! Thank you so much!
Monday, April 28, 2008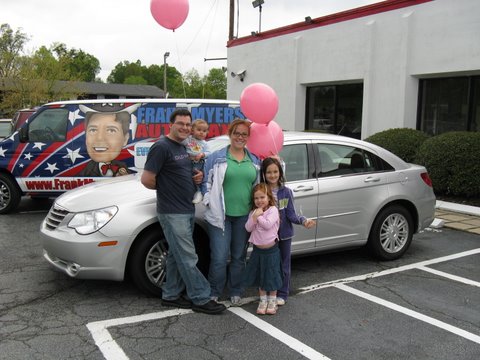 The service was superb. We received friendly, personal service. Pre-sale: The staff expended time and energy to find the exact vehicle we were looking for. It made the entire process actually fun and informative. We truly appreciate the work and pleasantry of the dealership staff. We would certainly refer them to anyone. This was worth the 2 3/4 hour drive.
Jake Smith
High Point, NC.
Our salesperson was Gabe!